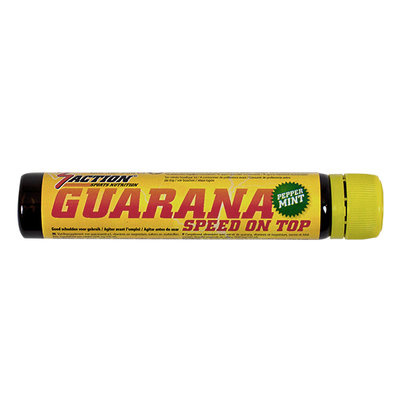 3ACTION 'Guarana'
3Action Guarana - Speed on top is een voedingsupplement met guaranaextract, vitamines en magnesium, suikers en zoetstof.
Drink 1 ampul vlak vóór of tijdens de fysieke inspanning. Ideaal gebruiksmoment is het laatste uur van de inspanning om bv. de finale te rijden, of gemakkelijker die lastige klim nog aan te kunnen.
Ingrediënten: water, glucose, fructose, isomaltulose, guaranaextract (paullinia cupana), magnesiumcitraat, citroenaroma, conserveermiddelen: E202, anti-oxidanten: E330, E341, peppermint, vitamine C, kaliumsorbaat, natriumpyrofosfaat, natriumbicarbonaat, vitamine B1, vitamine B6, zoetstof: E950.